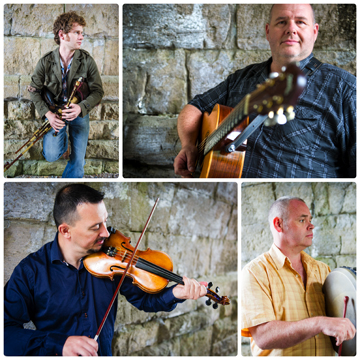 Thursday, November 14, 2013 - 7:30 pm
The Green Willow Presents...
Comas
Blue Ball Barn
Alapocas Run State Park, 1914 West Park Drive, Wilmington, Delaware [MAP]
Tickets: $23 Advance/$25 at Door

Tickets are $23 when reserved by e-mail or phone or $25 at the door; ages 17 and under are free with an adult. Seating is limited and reservations are recommended. Doors open at 7:00 pm. Cash or check accepted for payment. When making reservations please give your name, phone number and number of seats requested. E-mail concert ticket reservations to reservations@greenwillow.org or call 302-456-3242
When you hear Comas, you'll know that their choice of name was no accident: it translates from Irish Gaelic as "Power", and power is exactly what the band is about. It describes their own driving power coupled with a fine sensitivity for the inner strands of magic that is inherent in Irish music. Comas is a band firmly rooted in Irish music, but with enough space to allow for original compositions. Their openness to new influences and a respectful eye on the past bring Comas to the forefront of what traditional music is about today.
The members of Comas have traveled individually with top acts such as The Drovers, Orion, Eileen Ivers and the internationally acclaimed Liz Carroll, to name just a few. Although coming from diverse musical backgrounds and residing in different parts of the globe, they found each other through their similar approach to music, bringing together their many cultural influences to forge a unique blend of traditional Irish music that literally had them, within months of coming together, playing in major festivals in Ireland, Belgium, France, England, Denmark, and Holland. This achievement alone is worthy of note, and as further testimony to their deep talented roots, they were asked back immediately to every festival they played.
Aidan Burke, their fiddle player, delves deep into his Irish roots to pluck a pure sound that transcends time and place guaranteed to touch any lover of Celtic music. Aidan's dexterity is evenly matched by the awesome talents of Isaac Alderson (flutes, uilleann pipes), Philip Masure (guitar) and Anna Colliton (percussion for their November tour.)
Visit Comas at comasmusic.com
---
---
<!== ABOUT GREEN WILLOW ==>
About Green Willow
The Green Willow Folk Club is dedicated to the preservation and growth of Celtic and British Isles folk music. Artists from Ireland, Scotland and England are most prominently featured, as well as performers from Canada, the United States, Australia, France, and Spain. From child ballads to sea music, from strathspeys to reels, the Green Willow seeks to keep alive the folk music traditions of Celtic communities from all over the world.
The Green Willow Folk Club is a 501 (c)(3), nonprofit, educational organization. It is a member of the North American Folk Music and Dance Alliance and joins this international organization in its efforts to advocate for all kinds of folk music.
The Green Willow Folk Club was founded in 1983 by Michael and Carla Dinsmore, inspired by their trip to the Edinburgh Folk Festival in Scotland. We are celebrating our 30th anniversary in 2013! Our thanks to the loyal patrons, venue hosts, local print and radio media, the Green Willow founders and Board of Directors, and our volunteers for preserving and promoting a home in the Brandywine Valley for Celtic and British Isles music. But, of course, we especially thank the artists who have both inspired us and entertained us for three decades.
Some of the Artists Presented by the Green Willow Folk Club Since 1983
from Ireland: Danu, John Whelan, Nomos, Kevin Burke, Karen Casey, Craobh Rua, Mick Maloney, Jimmy Keane & Robbie O'Connell, Sean Keane, Lunasa, The Cassidys, Dervish, Grada, Goitse, Nuala Kennedy
from Scotland: Old Blind Dogs, Malinky, Dick Gaughan, Battlefield Band, Tannahill Weavers, JIm Malcolm, Ceolbeg, Dougie MacLean, Archie Fisher, Johnny Cunningham, Silly Wizard, Paul McKenna Band, Ian Bruce, Ian Walker, Brian McNeill, Aaron Jones and Claire Mann
from England: The House Band, The Watersons, The Copper Family, Fairport Convention, Martin Carthy & Dave Swarbrick, John Roberts & Tony Barrand, John Renbourne, Pete Coe, Artisan, Jez Lowe
from Wales: Calennig
from the United States: Clandestine, Nightingale, Cathie Ryan, Pint and Dale, Magical Strings, Touchstone, Natalie Haas, Hanneke Cassell, The Outside Track, Maggie Sansone, Matt and Shannon Heaton, Annalivia
from Canada: Mad Pudding, Figgy Duff, James Keelaghan, Rare Air, Finest Kind, Eileen McGann, Genticorum, The McDades
from Australia: Eric Bogle, Martyn Wyndham-Read, Ian Campbell-Smith
from Cornwall: Anao Atao
from France: Kornog
from Asturia (Spain): Brenga Asturia
from Faroe Islands: Spaelimenninir
---